Albion Lodge, A.F.& A.M
No. 5 G.R.N.S.
Dispensation, October, 1838
Warrant No. 692 E.C., 30th April 1840
Warrant Changed to No. 470, 1863
Joined the Grand Lodge of Nova Scotia as Albion No. 5 in the year 1869.
2014 - Doric Lodge No. 91 and Euclid Lodge No. 92 Amalgamated with Albion Lodge
Regular Communications on the Second Wednesday of Each Month
Except July and August
427 Little Harbour Road
New Glasgow, Nova Scotia
Lodge Contact:
Jim Sweet;
eMail
; Phone: +1 902 752-3453
Driving Directions: From Highway 104 East, take exit 25 to East River Road, turn left (W) on East River Road to New Glasgow; at 6th set of lights turn right (N) on Temperance St. Right (E) to Mountain Road,and almost immediate left (N) to Almont Ave - stay right to Little Harbour Road.Lodge ~ 1 km - Building on right.
See Location of County Lodges on Map
---

Officers 2016/2017
Installed on April 13, 2016


Worshipful Master:

W. Bro. Christian P. Delorey

Immediate Past Master:

W. Bro. James Fraser III

Senior Warden:

Bro. Colin D. MacKinnon

Junior Warden:

Bro. Mark G. Firth

Treasurer:

R.W.Bro. Paul A. McCracken

Secretary:
V.W. Bro. James A. Sweet
Director of Ceremonies:

W. Bro.

D. Alexander (Sandy) Reid

Chaplain:

Bro. Jeffery Davis

Senior Deacon:
Bro. Seth A. Rozee
Junior Deacon:

Bro. James E. Stewart

Marshal:

V.W. Bro.

James F. D. Mitchell

Inner Guard:
W. Bro. Kenneth E. Langille

Organist:
(vacant)

Historian:

V.W. Bro. Troy MacCulloch

Senior Steward:

Bro. Glen J. Myers

Junior Steward:

(vacant)

Tyler:
Bro. Vernon K. Hirtle

---

Officers 2015/2016
Worshipful Master:

W. Bro. James Fraser III

Immediate Past Master:

R.W. Bro. Paul McCracken

Senior Warden:

Bro. Christian Delorey

Junior Warden:

Bro. Colin MacKinnon

Treasurer:

R.W.Bro. Paul McCracken

Secretary:
V.W. Bro. James Sweet
Director of Ceremonies:

V.W. Bro.

James Mitchell

Chaplain:

W. Bro. Donald Sutherland

Senior Deacon:

Bro. Mark Firth

Junior Deacon:

Bro. James Stewart

Marshal:

W. Bro. Avedis Balmanoukian

Inner Guard:
W. Bro. Blake Stewart

Organist:
(vacant)

Historian:

V.W. Bro. Troy MacCulloch

Senior Steward:

Bro. Glen Myers

Junior Steward:

Bro. Seth Rozee

Tyler:
Bro. Vernon Hirtle


---
Officers 2014/2015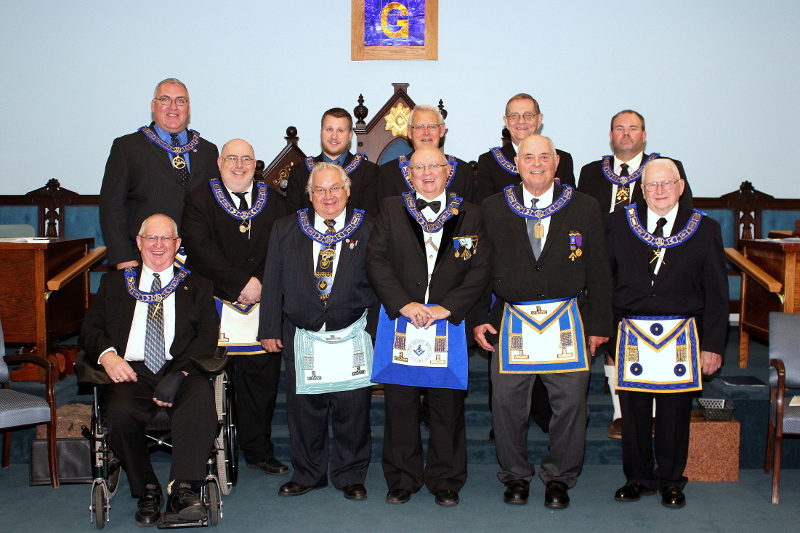 | | |
| --- | --- |
| Worshipful Master: | Rt.W. Bro. Paul McCracken |
| Immediate Past Master: | W. Bro. James Forrest |
| Senior Warden: | V.W. Bro. William MacPherson |
| Junior Warden: | Bro. Christian Delorey |
| Treasurer: | W. Bro. James Fraser III |
| Secretary: | V.W. Bro. James Sweet |
| Director of Ceremonies: | V.W. Bro. Wayne Harris |
| Chaplain: | V.W. Bro. Roger Brown |
| Senior Deacon: | Bro. Colin MacKinnon |
| Junior Deacon: | Bro. David MacIvor |
| Marshal: | W. Bro. Avedis Balmanoukian |
| Inner Guard: | W. Bro. Blake Stewart |
| Organist: | (vacant) |
| Historian: | V. W. Bro. Troy A. MacCulloch |
| Senior Steward: | W. Bro. David Condon |
| Junior Steward: | Rt.W. Bro. Frank Cullen |
| Tyler: | Bro. Vernon Hirtle |

---
Officers 2013/2014
| | |
| --- | --- |
| Worshipful Master: | W. Bro. James H. Forrest |
| Immediate Past Master: | W. Bro. James Fraser III |
| Senior Warden: | W. Bro. David Condon |
| Junior Warden: | Bro. Tom Owen |
| Treasurer: | V.W. Bro. Raymond Hiltz |
| Secretary: | V.W. Bro. James Sweet |
| Director of Ceremonies: | V.W. Bro. Troy A. MacCulloch |
| Chaplain: | W. Bro. Frank Bowen |
| Senior Deacon: | Bro. Christian P. DeLorey |
| Junior Deacon: | Bro. Colin MacKinnon |
| Marshal: | W. Bro. Bill Mackay |
| Inner Guard: | Bro. Vernon K. Hirtle |
| Organist: | (vacant) |
| Historian: | V. W. Bro. Troy A. MacCulloch |
| Senior Steward: | Bro. Rick Hawboldt |
| Junior Steward: | Bro. Willie Whyte |
| Tyler: | V.W. Bro. James (Jim) F. D. Mitchell |

---
Officers 2012/2013
| | |
| --- | --- |
| Worshipful Master: | Bro. James Fraser III |
| Immediate Past Master: | V.W. Bro. James Mitchell |
| Senior Warden: | Bro. James H. Forrest |
| Junior Warden: | W. Bro. David Condon |
| Treasurer: | V.W. Bro. Raymond Hiltz |
| Secretary: | W. Bro. James Sweet |
| Director of Ceremonies: | V. W. Bro. James (Jim) F. D. Mitchell |
| Chaplain: | W. Bro. Frank Bowen |
| Senior Deacon: | Bro. Andrew Roy |
| Junior Deacon: | Bro. Christian P. Delorey |
| Marshal: | W. Bro. William (Bill) A. MacCulloch |
| Inner Guard: | Bro. Vernon K. Hirtle |
| Organist: | (vacant) |
| Historian: | W. Bro. Troy A. MacCulloch |
| Senior Steward: | Bro. William (Bill) J. Marshall |
| Junior Steward: | Bro. Colin D. MacKinnon |
| Tyler: | Bro. William (Willie) G. Whyte |

---
Officers 2011/2012
| | |
| --- | --- |
| Worshipful Master: | V.W. Bro. James Mitchell |
| Immediate Past Master: | W. Bro. William MacCulloch |
| Senior Warden: | Bro. James Fraser III |
| Junior Warden: | Bro. James Forrest |
| Treasurer: | V.W. Bro. Raymond Hiltz |
| Secretary: | W. Bro. James Sweet |
| Associate Secretary: | W. Bro. William MacCulloch |
| Chaplain: | W. Bro. Frank Bowen |
| Senior Deacon: | Bro. Andrew Roy |
| Junior Deacon: | Bro. Richard D. Hawboldt |
| Marshal: | W. Bro. David Condon |
| Inner Guard: | Bro. Michael Dignan |
| Organist: | Bro. William Rhude |
| Senior Steward: | Bro. Tom Owen |
| Junior Steward: | Bro. Willie Whyte |
| Tyler: | Bro. Vernon Hirtle |

---
Officers 2010/2011
Installed April 10, 2010
| | |
| --- | --- |
| Worshipful Master: | W. Bro. William MacCulloch |
| Immediate Past Master: | W. Bro. David Condon |
| Senior Warden: | Bro. Andrew Roy |
| Junior Warden: | Bro. James Fraser III |
| Treasurer: | V.W. Bro. Raymond Hiltz |
| Secretary: | W. Bro. James Sweet |
| Director of Ceremonies: | V.W. Bro. James Mitchell |
| Chaplain: | W. Bro. Frank Bowen |
| Senior Deacon: | Bro. James Forrest |
| Junior Deacon: | Bro. Richard D. Hawboldt |
| Marshall: | W. Bro. William MacCulloch |
| Historian: | W. Bro. Troy MacCulloch |
| Senior Steward: | Bro. Tom Owen |
| Junior Steward: | Bro. Willie Whyte |
| Tyler: | Bro. Courtney Malcolm |
Officers 2009/2010
Installed April 18, 2009
| | |
| --- | --- |
| Worshipful Master: | |
| Immediate Past Master: | |
| Senior Warden: | |
| Junior Warden: | |
| Treasurer: | |
| Secretary: | |
| Chaplain: | |
| Senior Deacon: | |
| Junior Deacon: | |
| Marshall: | |
| Inner Guard: | |
| Historian: | |
| Senior Steward: | |
| Junior Steward: | |
| Organist: | |
| Tyler: | |

---
Officers 2008/2009
Installed on April 4, 2008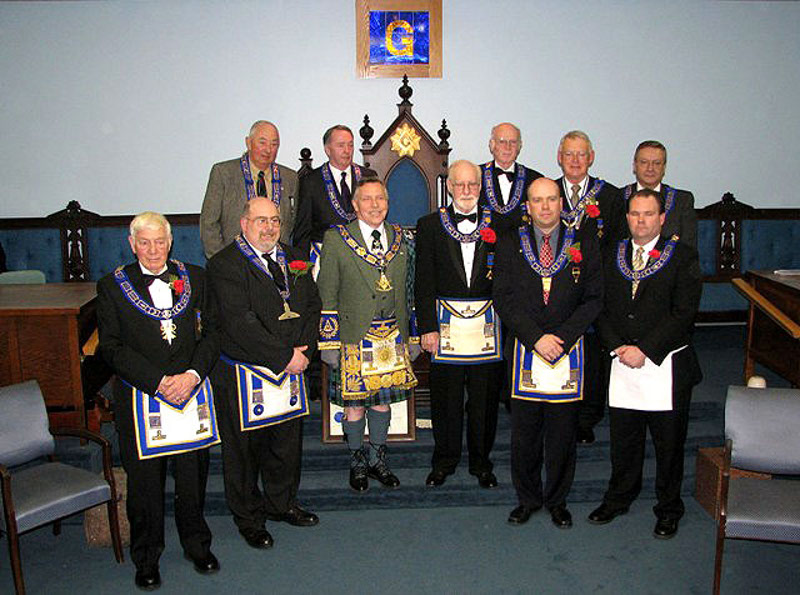 | | |
| --- | --- |
| Worshipful Master: | V. Wor. Bro. Ray Tucker |
| Immediate Past Master: | Wor. Bro. Troy MacCulloch |
| Senior Warden: | Bro. David Condon |
| Junior Warden: | Bro. William McKay |
| Treasurer: | V. Wor. Bro. Raymond Hiltz |
| Secretary: | Wor. Bro. James Sweet |
| Director of Ceremonies: | V. Wor. Bro. James Mitchell |
| Chaplain: | Wor. Bro. Frank Bowen |
| Senior Deacon: | Bro. Andrew Roy |
| Junior Deacon: | Bro. James Fraser III |
| Marshall: | V. Wor. Bro. James Mitchell |
| Inner Guard: | Bro. Richard H. Hawboldt |
| Historian: | V. W. Bro. Lloyd P. MacKay |
| Senior Steward: | Bro. Jim Forrest |
| Junior Steward: | Bro. Richard D. Hawboldt |
| Organist: | Bro. Dwayne Decker |
| Tyler: | Bro. Courtney Malcolm |
| Immediate Past Master | Wor. Bro. Troy MacCulloch |
| | |
| --- | --- |
| Worshipful Master: | Wor. Bro. Troy MacCulloch |
| Immediate Past Master: | W. Bro. Frank Bowen |
| Senior Warden: | Bro. William McKay |
| Junior Warden: | Bro. David Condon |
| Treasurer: | V. Wor. Bro. Raymond Hiltz |
| Secretary: | Wor. Bro. James Sweet |
| Chaplain: | V. Wor. Bro. Raymond Tucker |
| Senior Deacon: | W. Bro. William MacCulloch |
| Junior Deacon: | Bro. Dwayne Decker |
| Marshall: | V. Wor. Bro. James Mitchell |
| Inner Guard: | V. Wor. Bro. Alford Fraser |
| Historian: | V. W. Bro. Lloyd P. MacKay |
| Senior Steward: | Bro. Matthew McKenna |
| Junior Steward: | Bro. James Fraser III |
| Organist: | Bro. Dwayne Decker |
| Tyler: | Bro. Courtney Malcolm |
Living Past Masters


1965
Clarence B. Green, P.G.C.


1966
Alford I. Fraser, P.D.D.G.M.


1969
Donald E. MacLeod, P.D.D.G.M.


1970
Donald E. MacLeod, P.D.D.G.M.


1971
David A. Fraser


1974
Alan E. MacLeod


1978
Lloyd P. MacKay, P.D.D.G.M.


1979
Ian R. Cameron, P.D.D.G.M.
�
1980
E.F. Hart


1983
L.G. MacLeod
�
1984
John G. Fraser


1985
E.F. Hart
#
1987
Kevin J. MacLeod


1989
L.G. MacLeod


1990
George A. MacKay


1991
George A. MacKay


1992
Lloyd P. MacKay, P.D.D.G.M.


1993
Lloyd P. MacKay, P.D.D.G.M.
�
1994
Kenneth Jensen
�
1995
Kenneth Jensen
�
1996
Kenneth Jensen, G.S.
�
1997
Kenneth Jensen, G.S.


1998
James F. Mitchell, P.D.G.D.C.


1999
Donald A. Reid


2000
Raymond S. Hiltz, P.D.G.C.


2001
William R. McKay


2002
William A. MacCulloch


2004
William R. McKay


2005
James A. Sweet


2006
Frank H. Bowen


2007
Troy A. MacCulloch


2009
David A. Condon


2010
William A. MacCulloch


2011
James F. Mitchell, P.D.G.D.C.



2012
James Fraser III



2013
James H. Forrest


2014
Paul McCracken
2015
James Fraser III


2016
Christion P. Delorey


# = Suspended ~ � = Demitted

---
History


---