Hudson Lodge, A.F.& A.M.
No. 77 G.R.N.S.
Dispensation, 15th. May, 1881
Warrant, No. 77, June, 1882
Regular Communications on the Fourth Thursday of Each Month
Except July and August
Oddfellow's Hall ,500 Thorburn Rd. Thorburn , Nova Scotia
Contact:
Graham MacCallum; eMail: graham.mac#ns.sympatico.ca Tel.: +1 902 7522795
Replace # with @ in eMail Address above
Driving Directions: From TC 104 take Exit 26 proceed south to a V in the road at the service station and keep left. The hall is about 2Km further at the 4 way intersection. Sign on building.

See Location of County Lodges on Map
Events
| | |
| --- | --- |
| January 8, 2014 | Picture of an official visit made by 5 brethren of Hudson Lodge #77 to Eastern Light Lodge #72 in Guysborough on January 8, 2014. |

---
Officers 2015/2016
Worshipful Master:
W. Bro.

William MacDonald

Immediate Past Master:
Rt. W. Bro. Rudy Knoester
Senior Warden:
W. Bro.

Robert Murphy

Junior Warden:
W. Bro.

Russell Mosher

Treasurer:
W. Bro. John Davison
Secretary:
V. W. Bro. Graham MacCallum
Director of Ceremonies:
V. W. Bro.

Philip Roode

Chaplain:
Bro Cecil Hebb
Senior Deacon:
Bro.

Adrian Cameron

Junior Deacon:
Bro.

Kent Mosher

Marshall:
Bro. Philip Feit
Inner Guard:
Bro.

Kenneth Johnson

Historian:
Rt.W. Bro. Allison G.MacCulloch
Senior Steward:
Bro. David Johnstone
Junior Steward:
Bro. Nicholas Williams
Organist:
V. W. Bro. Donald MacKay
Tyler:
Rt. W. Bro. Rudy Knoester

---
Officers 2014/2015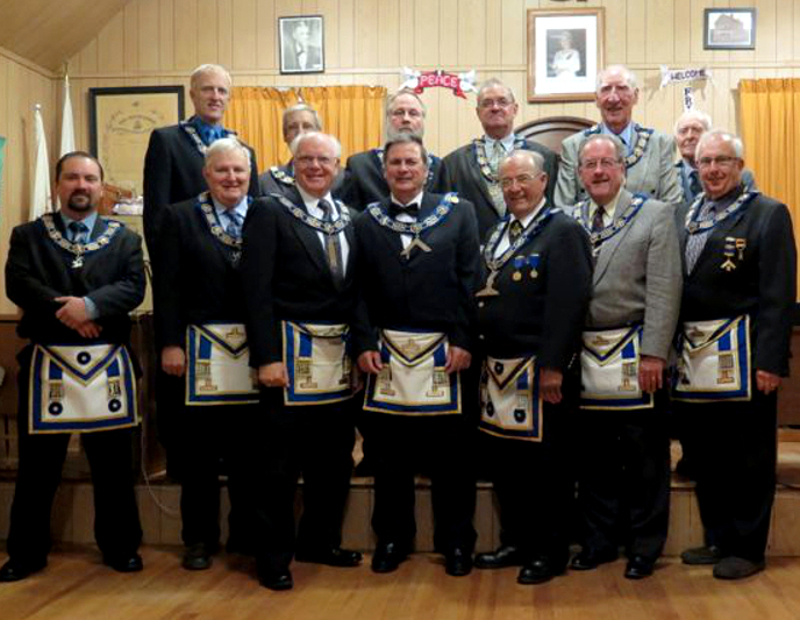 | | |
| --- | --- |
| Worshipful Master: | Rt. W. Bro. Rudy Knoester |
| Immediate Past Master: | Rt. W. Bro. Rudy Knoester |
| Senior Warden: | Bro. William MacDonald |
| Junior Warden: | Rt. W. Bro. Reg Peyton |
| Treasurer: | W. Bro. John Davison |
| Secretary: | V. W. Bro. Graham MacCallum |
| Director of Ceremonies: | Rt. W. Bro. Reg Peyton |
| Chaplain: | Bro Cecil Hebb |
| Senior Deacon: | W. Bro. Robert Murphy |
| Junior Deacon: | Bro. Adrian Cameron |
| Marshall: | Bro. Philip Feit |
| Inner Guard: | W.Bro. Michael Cunningham |
| Historian: | Rt.W. Bro. Allison G.MacCulloch |
| Senior Steward: | Bro. David Johnstone |
| Junior Steward: | Bro. Nicholas Williams |
| Organist: | V. W. Bro. Donald MacKay |
| Tyler: | W. Bro. Russell Mosher |

---
Officers 2013/2014
| | |
| --- | --- |
| Worshipful Master: | Rt. W. Bro. Rudy Knoester |
| Immediate Past Master: | W. Bro. Robert Murphy |
| Senior Warden: | W. Bro. Robert Murphy |
| Junior Warden: | Bro. William MacDonald |
| Treasurer: | W. Bro. John Davison |
| Secretary: | V. W. Bro. Graham MacCallum |
| Director of Ceremonies: | Rt. W. Bro. Reg Peyton |
| Chaplain: | Bro Cecil Hebb |
| Senior Deacon: | Rt. W. Bro. Reg Peyton |
| Junior Deacon: | W.Bro. Michael Cunningham |
| Marshall: | Bro. Philip Feit |
| Inner Guard: | Bro. Adrian Cameron |
| Historian: | Rt.W. Bro. Allison G.MacCulloch |
| Senior Steward: | Bro. David Johnstone |
| Junior Steward: | Bro. Nicholas Williams |
| Organist: | V. W. Bro. Donald MacKay |
| Tyler: | W. Bro. Russell Mosher |

---
Officers 2012/2013
| | |
| --- | --- |
| Worshipful Master: | W. Bro. Robert Murphy |
| Immediate Past Master: | W. Bro. Robert Murphy |
| Senior Warden: | Bro. George MacLellan |
| Junior Warden: | W. Bro James Duggan |
| Treasurer: | W. Bro. John Davison |
| Secretary: | V.W. Bro. Graham MacCallum |
| Director of Ceremonies: | Rt.W.Bro. Reg Peyton |
| Chaplain: | Bro Cecil Hebb |
| Senior Deacon: | Bro. William MacDonald |
| Junior Deacon: | W.Bro. Michael Cunningham |
| Marshall: | Bro. Philip Feit |
| Inner Guard: | W. Bro. Russell Mosher |
| Historian: | Rt.W. Bro. Allison G.MacCulloch |
| Senior Steward: | Bro. David Johnstone |
| Junior Steward: | Bro. Nicholas Williams |
| Organist: | V.W. Bro. Donald MacKay |
| Tyler: | Rt.W.Bro. Rudolph Knoester |

---
Officers 2011/2012
| | |
| --- | --- |
| Worshipful Master: | W. Bro. Robert Murphy |
| Immediate Past Master: | W. Bro. John Davison |
| Senior Warden: | Bro. George MacLellan |
| Junior Warden: | W. Bro James Duggan |
| Treasurer: | W. Bro. John Davison |
| Secretary: | V.W. Bro. Graham MacCallum |
| Director of Ceremonies: | Rt.W.Bro. Reg Peyton |
| Chaplain: | Bro Cecil Hebb |
| Senior Deacon: | W.Bro. Michael Cunningham |
| Junior Deacon: | Bro. Bill MacDonald |
| Marshall: | Bro. Philip Feit |
| Inner Guard: | W. Bro. Russell Mosher |
| Historian: | Rt.W. Bro. Allison G.MacCulloch |
| Senior Steward: | Bro. David Johnstone |
| Junior Steward: | Bro. Nick Williams |
| Organist: | V.W. Bro. Donald MacKay |
| Tyler: | Rt.W.Bro. Rudolph Knoester |

---
Officers 2010/2011
| | |
| --- | --- |
| Worshipful Master: | W. Bro. John Davison |
| Immediate Past Master: | W. Bro Howard Archibald |
| Senior Warden: | W. Bro James Duggan |
| Junior Warden: | Bro. George MacLellan |
| Treasurer: | V.W. Bro. Everett Jeans |
| Secretary: | V.W. Bro. Graham MacCallum |
| Director of Ceremonies: | Rt.W.Bro. Reg Peyton |
| Chaplain: | Bro Cecil Hebb |
| Senior Deacon: | W. Bro. Robert Murphy |
| Junior Deacon: | V.W. Bro Mel Scott |
| Marshall: | Bro. Philip Feit |
| Inner Guard: | Bro. Bill MacDonald |
| Historian: | Rt.W. Bro. Allison G.MacCulloch |
| Senior Steward: | Bro. David Johnstone |
| Junior Steward: | Bro. Nick Williams |
| Organist: | V.W. Bro. Donald MacKay |
| Tyler: | W. Bro. Russell Mosher |

---
Officers 2009/2010
Installed April 23, 2009

| | |
| --- | --- |
| Worshipful Master: | |
| Immediate Past Master: | |
| Senior Warden: | |
| Junior Warden: | |
| Treasurer: | |
| Secretary: | |
| Director of Ceremonies: | |
| Chaplain: | |
| Senior Deacon: | |
| Junior Deacon: | |
| Marshall: | |
| Inner Guard: | |
| Historian: | |
| Senior Steward: | |
| Junior Steward: | |
| Organist: | |
| Tyler: | |

---
Officers 2008/2009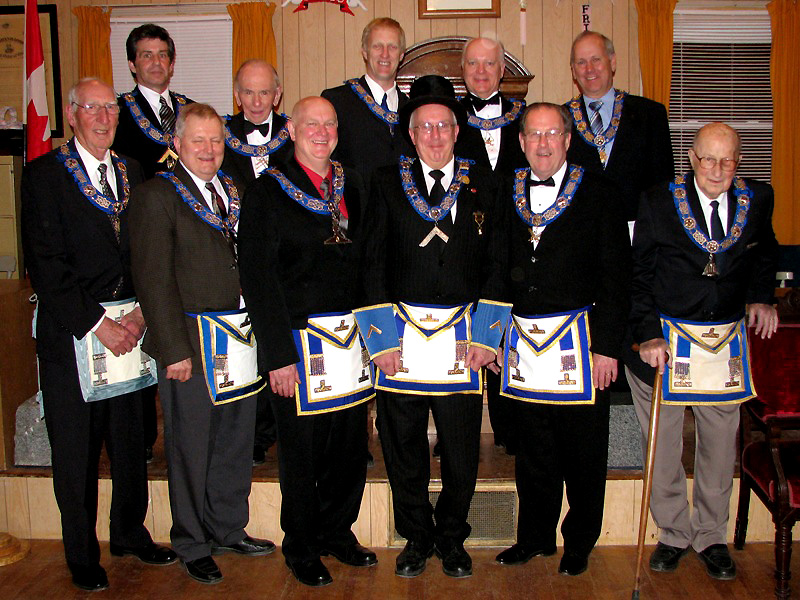 | | |
| --- | --- |
| Worshipful Master: | W. Bro. Russell Mosher |
| Immediate Past Master: | W. Bro. Robert MacDonald |
| Senior Warden: | W. Bro. Howard Archibald |
| Junior Warden: | W. Bro. John Davidson |
| Treasurer: | V. W. Bro. Everett Jeans |
| Secretary: | W. Bro. Graham MacCallum |
| Director of Ceremonies: | W. Bro. Robert Murphy |
| Chaplain: | V. W. Bro. Gilbert Fraser † |
| Senior Deacon: | Bro. John Cameron |
| Junior Deacon: | Bro. George MacLellan |
| Marshall: | V. W. Bro. Rudy Knoester |
| Inner Guard: | Bro. Frank Hillier |
| Historian: | Rt. W. Bro. Al MacCulloch |
| Senior Steward: | Bro. Nick Williams |
| Junior Steward: | Bro. David Johnston |
| Organist: | V. W. Bro. Donald Mackay |
| Tyler: | W. Bro. Robert Murphy |

---
Officers 2007/2008
| | |
| --- | --- |
| Worshipful Master: | |
| Immediate Past Master: | |
| Senior Warden: | |
| Junior Warden: | |
| Treasurer: | |
| Secretary: | |
| Director of Ceremonies: | |
| Chaplain: | |
| Senior Deacon: | |
| Junior Deacon: | |
| Marshall: | |
| Inner Guard: | |
| Historian: | |
| Senior Steward: | |
| Junior Steward: | |
| Organist: | |
| Tyler: | |

---
Past Masters

---
Lodge History

---